Asheville NC Treetops Adventure Park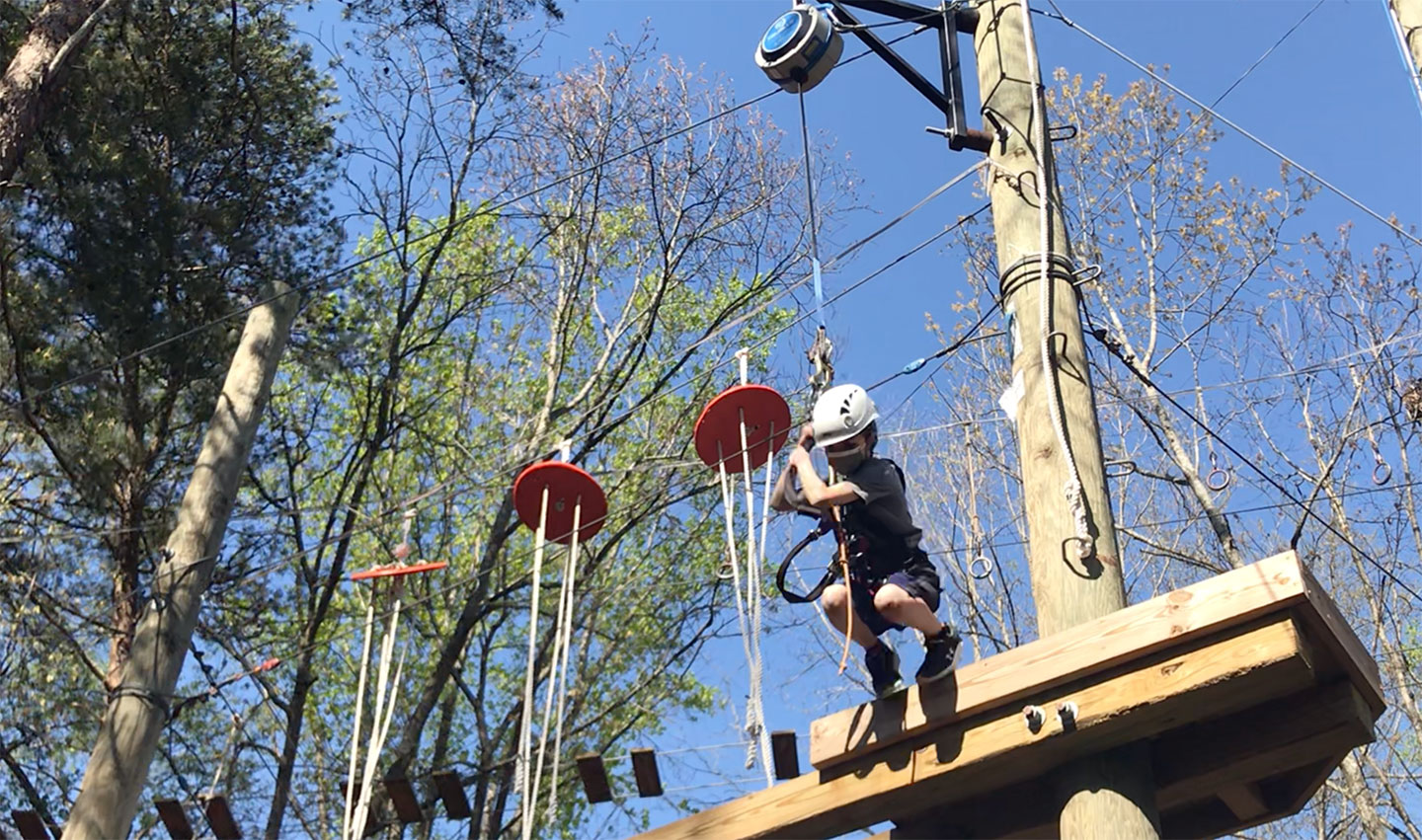 If you are looking for fun outdoor activities for the whole family, be sure to add this obstacle course to your list. The Treetops Adventure Park has over 77 arial obstacle challenges geared for all ages. I've seen 5 year olds all the way up to 70 years young that get up there and tackle the course. The Treetops Adventure Park is located right in the heart of Asheville NC. You don't have to drive miles away in some obscure place. It's right next to Sams Wholesale!
Watch Jett tackle 3 courses with ease in this video
Here you will see Jett is navigating the first 3 courses as a 9 year old. Jett is 49 inches tall, 50 pounds in this video.
Types of Obstacles
The park is loaded with every imaginable challenge. The builders and designers at this park have done an incredible job being creative with these. As you navigate the course you may have flashback visions of being Indiana Jones navigating a life or death scene. But rest assured you are tethered to a safety harness at all times and of course there's no actual traps with blades at the bottom. They've taken every precaution for safety!
Course Levels Based on Age
To kick off you are greeted by one of the rangers who get you setup to watch a simple but informative training video about the super safe equipment and system. You then get to experiment on a demo sample course down on the ground before heading up to the real deal! You will have 2 hours from start to finish.

From the site
" Adults and youth age 15 and older can choose between our lower trails (Green & Blue) or our Intermediate Trails (Yellow & Orange) or our Expert Trails (Red & Black). Kids age 7-14 must choose between their age-appropriate trails. And kids age 4-6 will start on the Purple Trail (a trail that starts on the ground just for their size) then they have the option of climbing the Green and Blue Trails with an adult. We guarantee that everyone will get to climb at least 2 trails! And don't think this is just a park for kids! The lower trails are perfect for kids or those adults who are more cautious. Our Red and Black Trails that are 40-50 feet in the air are a great challenge for those looking for some Ninja Warrior fun! We have a great adventure level for everyone! "
More information
Also right there in this park is another attraction known as KidZip. Learn more about Kid Zip - The first zip line designed for kids in Asheville NC
If you are looking for more things to check out in Asheville, here are our Top 5 Reasons We Love Asheville, NC.
Address to Treetops Adventure Park @ Asheville Treetops Adventure Park
85 Expo Dr, Asheville, NC 28806
More info here on their site. Asheville NC Treetops Adventure Park