Why I Invest into a Dividend Stock Portfolio
One of my favorite ways to invest is purchasing dividend stocks. They offer 2 forms of growth, capital appreciation and regular dividend payments, typically quarterly. I tend to look for larger and popular companies such as Proctor and Gamble, Target, Home Depot, Kelloggs, Apple as these are companies that have been around for a very long time and are fairly stable.
After your dividend portfolio is significant, you can live off of these into retirement. Every month you will see the dividends credited to your account in a predictable way, even when the stock goes down.
Some of my favorite dividend stocks and their yields at the time of this post
T | AT&T $2.08 6.94%
XOM | Exxon Mobile $3.48 5.89%
K | Kellogg $2.28 3.78%
PG | Proctor & Gamble $3.16 2.45%
Simple Rules For Investing With Shark Tank's Kevin O'Leary | Forbes
"A Stock with No Dividend is Worthless" - Kevin O' Leary
How I pick my stocks and when to buy?
I have an investment budget. Every month I put my designated investment budget into my account. A few days throughout the month I check up on my watch list of 50 stocks. Then I look for what most refer to as "Red Days". Sort the watch list by market change. If there are any significant drops I consider them to purchase. Buying on these days means you are picking these up on sale. See the demo watch list below. ABBV is -5% which could be a good buy day. AMC is up 4%, enjoy your profits but don't buy on this day. Do I check stocks all day long? Certainly not, I have a day job. I tend to take a look at stocks end of day or early stock open and only purchase stocks a couple times a month. I do tend to hold onto these stocks for the long road. It's important to have an exit strategy in case the stock is no longer worth it.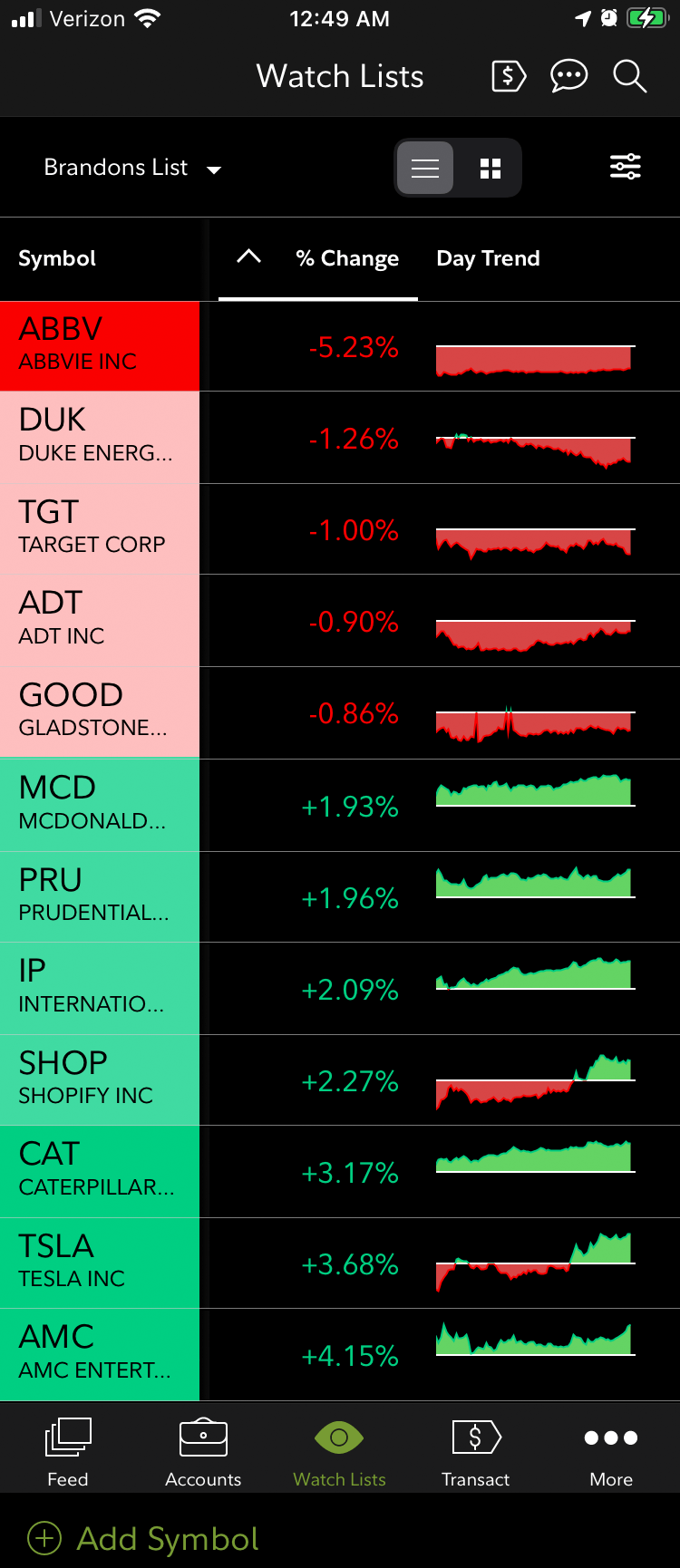 My Buying Strategy Recap
Set a budget and deposit into your account weekly or monthly
Look for

Red Days

If you like the stock and the discount is good, buy it
Hold and enjoy the capital appreciation and quarterly dividends
How To Get Started? Here are my favorite investing Apps.
Start off by trying out these popular 3 to compare and learn more about these tools. I can't tell you which stocks or ETFs (Exchange Traded Funds) to buy but some great starters are VYM, VOO and VTI. The key is starting.
Sign up for free @ Webull and we both get free stocks.
Sign up for free @ RobinHood and with both get a free stock.
Sign up @ M-1 Finance get $30 intro sign up bonus.
Note: I am not a financial advisor. Here I'm sharing my financial freedom journey. There's certainly risk involved in investing, so do your research or consult with an financial advisor.